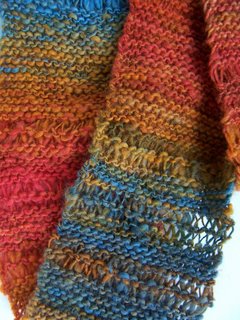 7 months ago Sonia came over to my place in Richmond & I lay out my handspun stash for her to see. She picked up a skein of handspun & hand-dyed singles (fingering/worsted) in the colors of Fall & said "This is mine." Then she went away to live out her life & heal herself through difficult times. I didn't see or hear from her much in the months to follow other than exchanges of anguished phone calls.
A few days ago she called me over to her home for some home-cooked "Dhokla". She had found her ground and long lost love. As I sat cross legged on the floor of her studio, my eyes wandered to a half finished scarf that lay in the shadow of a wooden chest.
I now wonder - 'is this really the yarn I spun?'. Sometimes I think people in pain make beautiful art. I've been convinced of this for years after having seen my mother's work & now Sonia proved a point. She's now back to making the exceptionally beautiful jewelry that sat in the shadow of the same chest for long, dark months.
I'm not sure what size the needles are - maybe US 3, 4 or 5. She also alternated with US 8 or 9 to get a more latticed/open knit in between. The yarn & scarf will now go back to Sonia so she can finish it. Hope the pictures explain.